FAQ/Troubleshooting
I can't see the add-on in the calendar pane or I get an error when trying to use the calendar features!
The add-on needs to be re-installed. This is done by following these steps:
Install the add-in following the instructions here:

Installation
If the add-in is deployed centrally, it can take a few hours for every user to get the new add-in on their Outlook desktop client.
I get an error when trying to save a note, attachment and/or person!
Please read through the requirements! There is most certainly some requirement that is not fulfilled.
The add-on is not visible in Outlook for iOS!
The add-on is currently only visible if you are using Office 365 Commercial or Outlook.com accounts.

If you dont see the add-in, make sure that it is enabled in the list of add-ins. If that doesn't work - try enable another add-in in the Outlook app (for example Trello) and restart the Outlook app (you can disable the other add-in after that).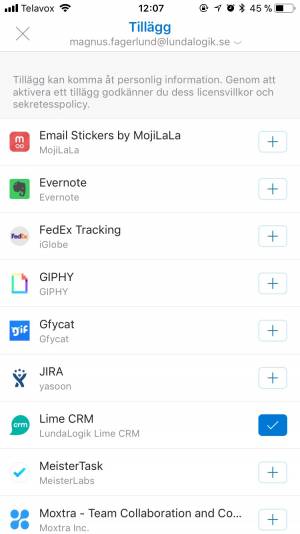 I get an error when trying to save document when saving attachment through Outlook desktop client!
Activating token does not succeed, gets stuck in loading-mode
If the offical mail address in Outlook does not correspond to the mail address in Lime (email field on coworker card) the activation will not succeed.